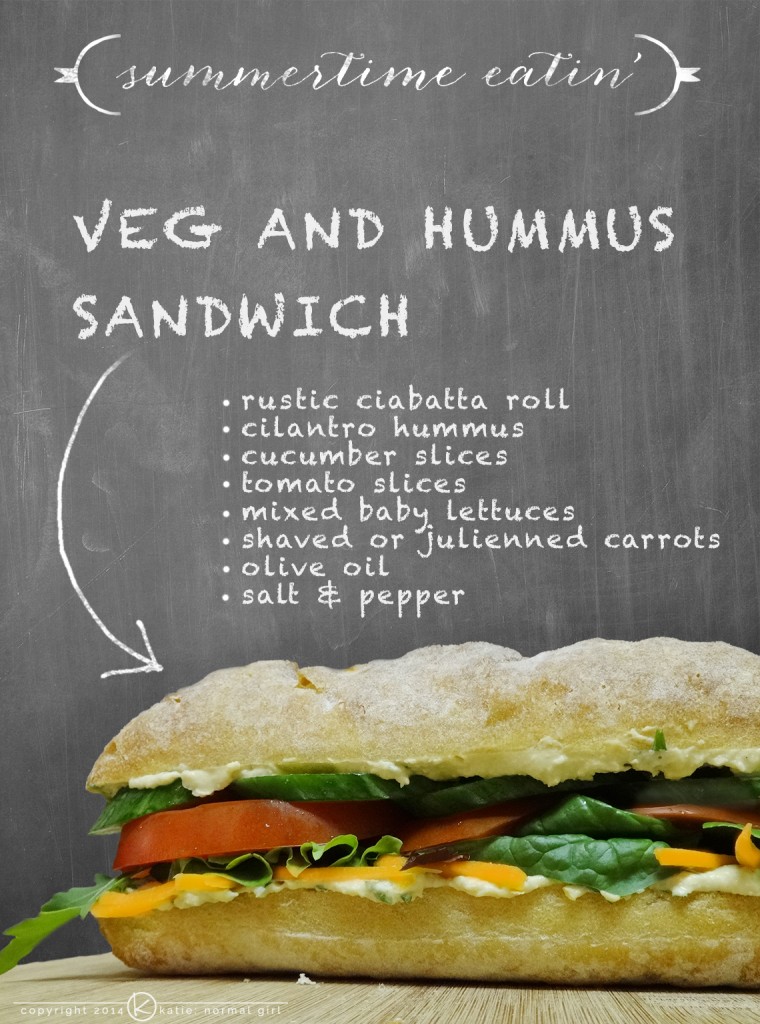 As summer approaches and backyard barbecues commence, I'm always on the look out for filling, vegetarian sandwich that'll go perfect with all of the classic summer side dishes (chips, baked beans, corn on the cob…it's all so delicious). This sandwich is it for me. It's great because all of the toppings can double as burger toppings (if you're a mixed meat and veggie crowd), it's great for taking on hikes and it's packed with protein so it's filling and energizing.
HOW TO BUILD THE PERFECT VEG SANDWICH
The ingredients:
rustic ciabatta roll (or other hearty, crusty bread of your choice)
cilantro hummus (if you can't find hummus, just mix a handful of chopped, fresh cilantro into your favorite classic hummus dip)
cucumber slices (I prefer english or pickle cukes because they are crunchier than the standard cucumber)
tomato slices
mixed baby lettuce or spinach
shaved or julienned carrots (use a vegetable peeler to shave the carrots and create thin carrot ribbons)
olive oil (not optional, I used to think it was but it is not)
sea or kosher salt and fresh cracked pepper
The layers:
Start with your ciabatta roll. Spray or brush a thin layer of olive oil onto both the top and bottom pieces of your roll. I didn't used to do this, then a friend of mine suggested adding it and wow! What a difference it makes. I was honestly shocked that a little olive oil could make the sandwich taste better but it does – don't skip it!
Follow with a sprinkle of any large granule salt, like sea or kosher salt and a dusting of fresh cracked pepper on both sides of the roll.
Then spread a layer of the cilantro hummus on each side of the roll.
Start building your layers on the bottom of the roll with the carrots, followed by the lettuce, tomatoes and cucumber.
Pop the top of your roll onto the sandwich and bite into the delicious-ness!
This sandwich is so tasty that it doesn't just have to be for the vegetarians in your group, the meat-eaters will love it too!